Either Stromberg had discovered something in the locality – an ancient temple, a stone circle, site of a massacre or iron age industrial site – or he'd been planning to extract magical power out of the everyday lives of council flat tenants. No wonder he was waiting up on his roof with his telescope until the day he died. [loc. 3019]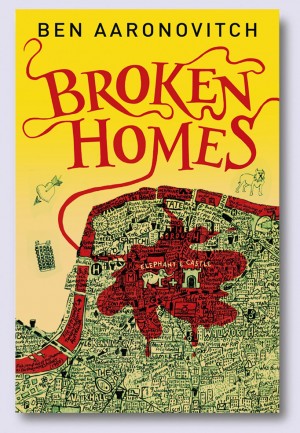 A suspicious-looking suicide and a burnt body in an unburnt house: another case for Peter Grant and the Folly.
Broken Homes
is largely set in a fictional council estate, the Skygarden, in Elephant and Castle (modelled on the
Heygate Estate
), which was unaccountably listed even though the council would like to tear it down. Why was it important that the Skygarden remain standing? And can the recent crop of suspicious deaths be linked to the Skygarden and its architect, the (unsuspiciously) late Erik Stromberg?
Nightingale plays a bigger role in this novel, and we get some more of his backstory. Another fascinating character, Varenka Debroslova, is introduced, and there's a chap walking around at the Thames' deities Summer Court who is referred to as a fox. Peter, who wanted to be an architect but didn't get the grades, impresses Lesley and Nightingale with his knowledge of brick course patterns. There are allusions galore, from
A Midsummer Night's Dream
to
Hitchhiker's Guide to the Galaxy
. Nightingale and Peter venture beyond the M25, to Essex. There is further evidence that the Faceless Man is up to no good. And
Broken Homes
culminates in a shocking denouement which I confess I did not see coming.
I think this was the first of Aaronovitch's novels in which I recognised how he depicts race and culture. In this novel, and I think the others too, skin colour is typically mentioned only if the person is
white
: a great difference from 'establishment' news reporting, for example. Many of the major characters are POC, and they come from different backgrounds: and it's clear that they are all Londoners, regardless of those backgrounds.
Funny, entertaining and more interesting than
Whispers Under Ground
: I finished this one and picked up the next ... [Ill health hath some benefits].