Early in
Dotter of her Father's Eyes
, Mary explains her fascination with Lucia Joyce to a fellow student:
"When I discovered [James] Joyce had a daughter I was curious. My parents were named Norah and Jim too!"
"So you're finding parallels?"
"I bloody hope not! She spent most of her life in mental institutions..." [p. 15]
There
are
parallels, though. Mary's 'cold mad feary father' -- a noted Joycean scholar -- is distant, sarcastic, emotionally abusive: Lucia's father is wound up in his own genius, thinking it sufficient that his daughter knows 'how to walk into a room', brushing aside her burgeoning career as a dancer in 1920s Paris. Both fathers love, but do not respect, their daughters. Both are blind to their daughter's individuality, to Mary's intellect and Lucia's talent for dance.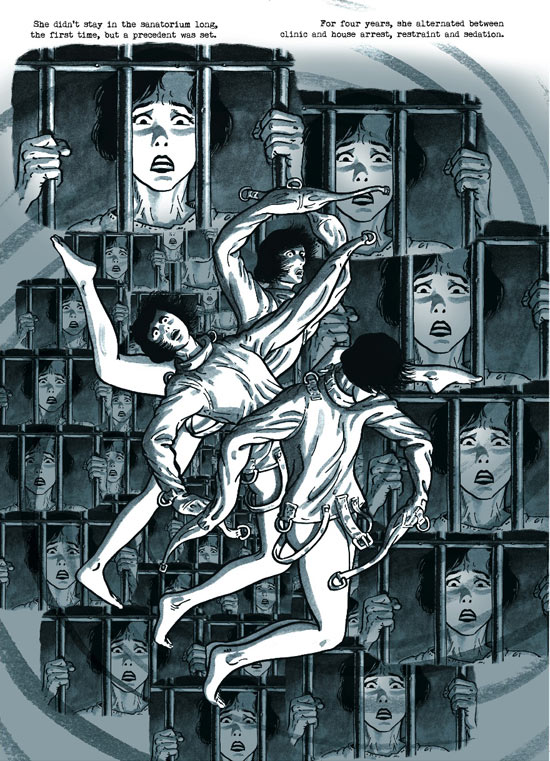 Dotter of her Father's Eyes
, which won the Costa Prize for Best Biography in 2012, is a graphic novel which uses different palettes (blue for Lucia's life, sepia for Mary's memories, with colour creeping in as Mary escapes her claustrophobic adolescence) to distinguish two closely-entwined stories. It's beautifully drawn, with some very striking pages: I found the text equally beautiful, and I laughed out loud at the occasional authorial aside ('NB Bryan's wrong again. In my school boys were seated on one side of the classroom, girls on the other.' [p.18])
Lucia's story is certainly a tragedy. Depressed, ashamed and angry at the discovery that her parents aren't even married to one another, she lashes out, and is confined to a clinic. Mary, by contrast, escapes. But it's clear that her father's influence extends beyond childhood. There's a panel of Sylvia Plath introducing her poem 'Daddy' on the radio "It's about a girl with an Electra complex. He died while she thought he was God." Mary observes 'mine came down from that pedestal while he was very much alive'. [p. 36] And even after Mary's father dies, she has to attempt to reconcile his public persona with her own experience.
Beautiful, moving and intimate: I will return to this, I think.